Project Partners:
American Bird Conservancy,
Coastal Bend Bays and Estuaries Program,
Houston Audubon,
Audubon Texas.
Project Abstract:
GCBO has teamed up with American Bird Conservancy to increase protection and public awareness of beach nesting bird populations that were affected by the Deepwater Horizon Oil Spill.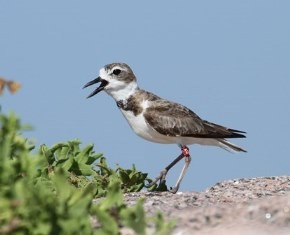 This project focuses on implementing protection, monitoring, and outreach for beach nesting birds. GCBO's research actions include monitoring the Black Skimmer colony at the Dow Chemical Company in Freeport, one of the largest skimmer colonies on the Texas coast and monitoring breeding Wilson's Plovers in Brazoria and Matagorda Counties. With funding from the National Fish & Wildlife Foundation, ABC and GCBO co-sponsored a shorebird field technician to conduct bird surveys and nest monitoring, implement and maintain protective measures at nesting sites, and implement public outreach about beach-nesting birds, and coordinate stewardship efforts.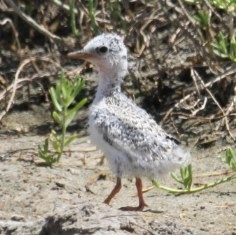 The project also entails trapping, banding, and re-sighting Wilson's Plovers to estimate in-season reproductive output, document movement and habitat use, track site and mate fidelity, and track fledging success. The goal of the program is to maintain and/or grow these species populations through conservation activities on the ground.
As part of this program, we developed a
Guide to the Breeding Birds of the Texas Coast
and a public service announcement. If you would like to distribute copies of the Fisherman and Boater's Guide to Birds or know of a place where they would be useful, please contact
Susan Heath
for information.
We are always seeking volunteers to help with monitoring and stewardship efforts! If you would like to help, contact
Susan Heath
for information. For more information on this Gulf-wide project, please visit the
Help Gulf Birds
website.