Click here for information on Summer Bird Camp in 2020.
Ever since John Audubon visited Galveston's shores in 1837, the upper Texas coast has been documented as a primary site for birds and bird habitat. This area enjoys a plethora of bird activity, due to its location along the central flyway used by migratory birds, and its pivotal location on the Gulf of Mexico. Residents of the upper Texas Coast are privileged to witness large bird populations throughout the year, and we believe the school children of the upper Texas coast are one of the best target audiences for our outreach efforts.
In June of 2012 GCBO hosted our first Summer Bird Camp for youth ages 8-11. It is a week long day camp. The Coastal Wild Bird Trunk developed several years ago here at GCBO is the backbone of the week's activities. Each day of Camp features a variety of outdoor learning experiences including: bird identification; how and why birds communicate; an art activity with a local artist; catching and examining wetland critters eaten by wading birds; conducting a mini-research project entailing recording bird sightings at the same location and time each day and analyzing the data; and finally, graduating as a certified "Bird Scene Investigator" at week's end. Camp has continued to be successful and we look forward each summer to having a great group of campers.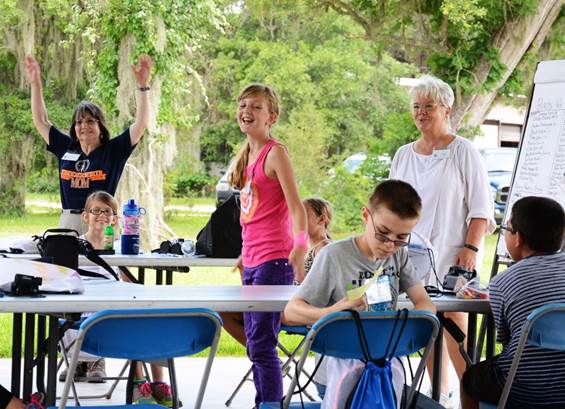 The 34-acre headquarters sanctuary in Lake Jackson with the outdoor classroom, deck over the wetland for dip netting, boardwalk to the photography blind and over 3 miles of trails are available to traditional classes and home schoolers. Please contact us at 979-480-0999 to schedule your class's visit.
We also have a year round banding station at our headquarters in Lake Jackson that has multiple purposes. In addition to collecting baseline data for the property, the impact of our habitat restoration on species using the site will be determined. Visitors are welcome to come and observe how this scientific monitoring method is practiced the third Saturday of each month.