2020 Spring Fling Canceled due to virus
With the Brazoria shelter in place order and no more than 10 people at any place, and our wish to look out for one another, we have cancelled Spring Fling at Quintana. We want everyone to be safe, therefore the GCBO Host Station will be closed.
For now the Quintana sanctuaries will remain open to visitors, although the city hall and restroom is closed. If you visit you must practice social distancing of 6 feet apart from any other person. The Town of Quintana is monitoring this, and will close it down if not adhered to! Please park in the marked parking area, and please eBird your sightings so we can track what's being seen! If access changes we will post the new information.
All GCBO events have been cancelled or postponed. Brew on the Bayou was moved to Nov 7th, and we have cancelled the Birds in Art exhibit, bird banding, native plant sale, all our presentations and meetings, and suspended our Summer Bird Camp at least for now.
With so many events cancelled we need your help more than ever! Here's a few ways you can help our conservation work continue:
· We now have a small online store up and running for you to still get those awesome GCBO Quintana t-shirts, and our brand new patches… and don't forget our cool hats, and more. Click here.
· Please donate bird seed and oranges for Quintana! You can swing by our headquarters in Lake Jackson, TX, (once we are open again after order is lifted) or leave them down by the door at our Quintana Host Station.
· Our Host Station normally takes in many generous donations during Spring Fling, so instead you can go online to www.gcbo.org (or mail a check) and make a donation.
Thank you!
Martin
What is Spring Fling?
Twice each year millions of birds swarm across the Americas, traveling thousands of miles as they migrate between breeding and wintering grounds, stopping in route to refuel at coastal stopover sites. Every year this spectacle attracts local and out of town birders who descend upon stopover sites throughout the migration corridor along the Gulf Coast.
Spring Fling is an amazing opportunity to see and celebrate the return of migratory songbirds as they arrive at stopover habitat along the coast. This is great time to enjoy the wide variety of species that migrate through Texas dressed in their spring finery and to see colorful birds like orioles, grosbeaks, tanagers, and numerous warbler species, to name just a few.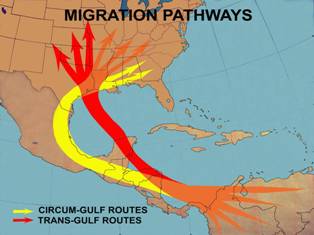 Where and when does it take place?
Spring Fling takes place at the Quintana Neotropic Bird Sanctuary and runs from April 4th to May 6th, 2020 from 9 am – 4 pm daily. The Sanctuary is located on Lamar Street across from the Quintana town hall building.  The event is run by GCBO volunteers, who always do a great job!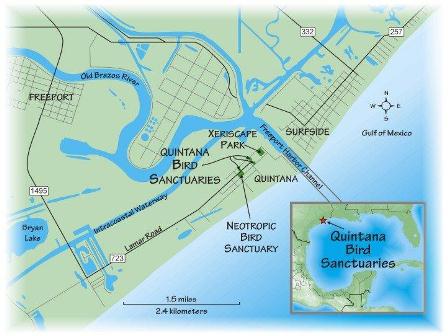 What can I expect at Quintana?
We will have knowledgeable volunteers and staff on hand at Quintana to answer your questions, keep a daily list, and sell water, snacks, and field guides. Even if you don't know a cardinal from a blue jay, you will enjoy a trip to Quintana to witness the diversity and abundance of migrating species. Please come on by and enjoy the birds with us!