By Susan Heath
We were able to head out to East Matagorda Bay on Monday. With the high winds over the weekend I was afraid that many of the nests out there had gotten overwashed. We headed down the GIWW with high hopes and we came across the tugboat Bill Baker. That's the one that we put a Motus antenna on! We waved and I snapped a bunch of photos.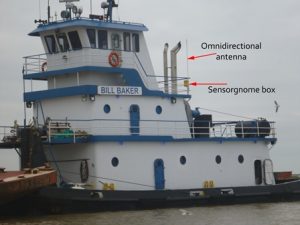 When we got to the first territory, we discovered that the nest had indeed overwashed. The birds were just hanging out but we found this handsome Wilson's Plover huddled down on the island trying to stay out of the wind.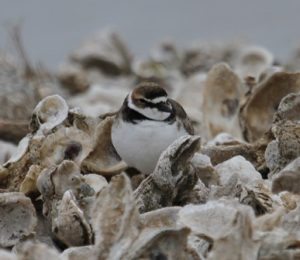 We checked the small islands near there and found two pairs where we had only one last time. Hopefully both will try to nest. YC and unbanded were hanging out on their island with this spiffy Royal Tern.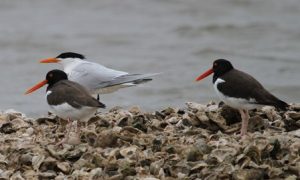 We headed out to Dressing Point and found the Great Blue Herons already on their territories in the cactus in the middle of the island.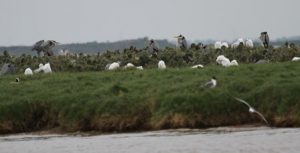 There was also a pair of oystercatchers there that wasn't there last time. Over at the Oyster Farm we found that the nest there had failed too. We got to see the pair that didn't have a nest yet copulate so I guess they'll have one the next time we go out! When we approached the islands at Old Gulf Cut, we saw this.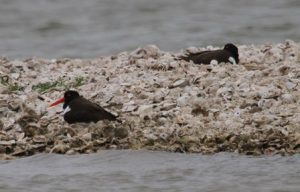 Notice anything funny about the way the left bird is standing? It has its wings drooped which is a classic pose for brooding chicks. We watched a while and were rewarded with a sighting of two tiny chicks!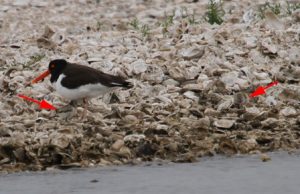 We went back down the GIWW and went in search of habitat for a pair that we saw along the beach when we were heading to the boat ramp. The guy at the control center for the swing bridge (Butch) told me last year that he was watching a pair nesting from the tower there so we knew there had to be a shell bank somewhere in that area and sure enough we found it and there was an oystercatcher there! We'll be checking on them from now on.
On Wednesday we headed out to West Galveston Bay on John Wright's boat. Alan Wilde was back in commission as our official photographer but unfortunately the wind was so high that he wasn't able to get many photos! The wind forecast ranged 15 to 20 mph. Anything over 15 mph is very dicey and 20 gets you a small craft advisory. If we'd had another day as a choice with better wind, I'd have opted to switch days but neither John nor I was available any other day and the wind wasn't predicted to be much better any other day anyway so we soldiered on. Here's what the water looked like.

photo by Alan Wilde
We didn't find any new nests but none of the existing ones had failed either so that was good news.
When we got to Struve Luci to check on the birds there we got a big surprise. If you'll remember K6 & JA are the pair that we discovered with a chick already when we made our initial survey for early nests. Here are the proud parents.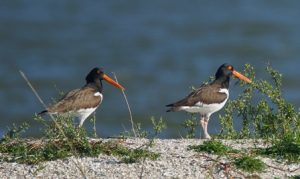 photo by Alan Wilde
We've been watching them every week since and have only seen one chick. Well today, they clearly had two! Those oystercatchers are just SO sneaky! Next week it will be time to band the chicks which will be an adventure now that we know there are two of them. I still don't know what's going on with 12 & unbanded. Last week I thought something had happened to their chick but this week they were acting very much like they still have one. I went and spied on them from shore after we got off the boat but they were both sleeping up in the vegetation so I still don't know.
We verified that 15 & 16 do have a nest! Last week we suspected they did but they nest on Galveston Island where there are a lot of mammalian predators so we didn't get off the boat to check because we didn't want to lead any mammals to the nest by leaving a scent trail. Today we verified they have a nest because we saw one of them incubating. Yeah! Nothing much was happening with the other pairs, but 13 & unbanded were hanging out with an unsavory crowd.

photo by Alan Wilde
I had hopes that we were wrong about P3's nest last week and that we would see them with chicks today but it was not to be. They were both on a different island from where they nest feeding which verified that they don't have any chicks stowed away anywhere. Bummer!
Here's the photo caption of the week photo. Send in some ideas!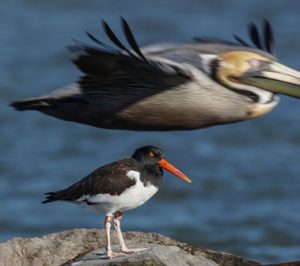 photo by Alan Wilde
On Thursday I went down to Port Lavaca and went out with Bob and Ruth Friedrichs and Brent and Dora Ann Ortego to check on the birds in Lavaca Bay. Bob had been out in that area last week and found many of them on nests so I was anxious to get more birds in that area banded. We caught a bird on the first nest right away. It was a female and we banded it KA. Then we had a run of bad luck and couldn't catch any more birds in Lavaca Bay. Arg. We did have this fantastic sighting though.
This is 492, a Greater Flamingo that escaped from the Wichita Zoo in 2005. Ever since then, it's been ranging the Texas coast. For years it was seen with an American Flamingo (HDNT) that was banded as a chick in the Yucatan and somehow found its way to Texas. HDNT disappeared a while back though and now poor 492 is alone. There are several articles on the internet about this pair. Here's a link to one if you're interested.
Since we'd run out of birds in Lavaca Bay we motored over to Chocolate Bay where there are two pairs, both with nests. I set up the box on the first nest which was right on a shell ridge and I paid the price for not paying close attention. The nest box is propped up with a split peg (just a piece of wood in two pieces). The split peg is balanced so that any movement will cause the two pieces to come apart making the box fall to the ground and trapping the bird. To entice peg movement there is a string running from the bottom part of the peg to the back of the box. When setting up the box, you have to make sure that string runs right over the top of the fake eggs so when the bird lays down it will disturb the string, causing the peg to split and the box to fall. Because the nest was right on the shell ridge, I had to set the box up a bit askew and I didn't pay close enough attention that the string was over the eggs. The bird went in the box and this happened.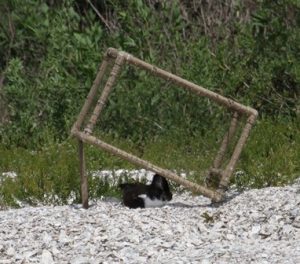 The bird is on the eggs and the box is still up! Dang. That's happened before and usually when we approach slowly, the bird disturbs the string when they get up to leave the nest and they get trapped. Well this time, this happened.
It got out without tripping the box so we did not get to band that one! My bad. We went around the other side of the island and did manage to trap one over there. It is now KF. We were out of birds in those bays and Bob offered to take me down to Tres Palacios Bay so I could check on the birds I put transmitters on a couple weeks ago. The Motus antennas aren't picking up their signals so I wanted to make sure they were still transmitting. The Motus folks have assured me that once the birds are done nesting and aren't staying put so much, the towers will start picking up the signals but I'm paranoid! So after loading up the boat and driving back to Palacios, we headed out in Tres Palacios Bay. The first transmitter bird's nest had hatched and they were on high alert when we arrived. I set up the receiver and was easily able to pick up the transmitter signal when they flew over giving us a warning shout. We left quickly and went to check the other one. It was still incubating and I was able to pick up that signal too. Phew! What a relief. On the way back to the boat ramp, we spied on the first transmitter bird from afar. It was on the shore with what looked like maybe a chick laying beneath it. As we drifted closer for a better look, the other adult flew in with food in its bill and two chicks jumped and ran over to it to be fed! What a great end to the day. Here they are in all their cuteness.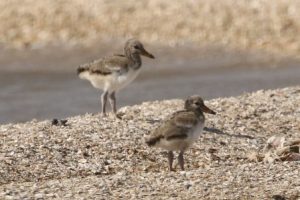 We've had a great response to the Adopt-an-Oystercatcher program! Thank you to everyone who has adopted a pair of birds. I will be sending out updates at the end of every month and sometimes in between if something exciting happens with the pair you adopted. If you aren't familiar with the program – you can adopt a pair of oystercatchers for a $100 donation and I will update you monthly on their progress throughout the breeding season. Check it out here.
Current Stats for upper Texas coast from Dickinson Bay to East Matagorda Bay: 7 nests being incubated, 5 failed nests, 2 nests with unfledged chicks, 1 nest with undetermined status, 0 chicks fledged
This project is supported by the National Fish and Wildlife Foundation and several private donors. If you would like to contribute you can do so by clicking on the Donate Now button below. All donations are tax deductible and GREATLY appreciated