By Susan Heath
Well folks, there's good news and bad news. I was joined on Wednesday, July 3 by Alan Wilde, Amanda Hackney, and my sister Kay Heath to monitor the skimmers and the remaining oystercatcher activity.  Unfortunately the weather did not allow us to get much done. I checked the radar when I woke up at 6:00 and there was no rain anywhere in the area. The weather forecast showed about 15% of chance until the afternoon so I thought we could get our monitoring done and get back before it started. By the time we got to the boat ramp at 8:30 however, showers were popping up everywhere. Dang! If it isn't wind, it's rain.
It looked pretty clear in the area where we were so we headed out to Struve Luci Island to check on the skimmers. They were doing fine and I took my videos so I could count them later. I wanted to make our first banding attempt so Amanda and I rounded up as many big ones as we could and then got out of there so the adults could settle back down. There was a large dark cloud over Galveston but it looked like it was headed east and instead of towards us so we got down to business banding.
We banded the nine we'd rounded up and then let them go quickly. Amanda is such a hoot!
Keep an eye out for banded skimmers! They have a metal band on the lower right leg and a red color band with a white code (three characters) on the lower left leg. These guys will be able to fly soon and the whole point of banding them is to determine how they move around so we need public resights. Spread the word! Here's my sister holding her first ever skimmer chick!
We did manage to spot L9 & unbanded's chick on a dock there while were checking out the skimmers.
Looking good little guy! Once we were done with that we headed over to Jigsaw to check on T5 & T6's nest. The wind had picked up considerably because of all the thunderstorms so it was pretty rough. Sadly, we didn't see a bird incubating in the area where the nest had been and then we saw both adults out on the end of the island so…. the nest must have failed. I didn't think it had much of a chance this late in the season but I was hopefully anyway. Too bad they couldn't make it work. I didn't take the time to go up and check the actual nest spot because the weather was really deteriorating. I was supposed to go monitor the other skimmer colonies in the bay but there were just too many thunderstorms popping up everywhere to stay out there.
We rushed over to North Deer to check on the final chick that hadn't fledged. When we pulled up, I saw both adults but not the chick. Amanda and Alan spotted it though and before I could find it among the pelicans and gulls, they said it flew! Woohoo! It finally fledged. Great news! Oystercatcher chicks normally fledge in 35 to 40 days. This little guy took twice that. What dedicated parents to keep feeding it all that time until it was able to fledge. I'm really glad I was able to get that cactus spine out of its foot, but I think the main deterrent to its fledging was the high tides making finding food difficult for the adults. On your way now U5X. Have a great life and come back to breed somewhere nearby when you are old enough.
I was feeling light rain and there was lightning in the distance so we raced back to the boat ramp and got the boat out of the water. By the time we got back to GCBO and got the boat washed the sky was blue and the sun was out! Oh well. I can go count the other skimmers next week.
So that's a wrap for the oystercatchers this year. There are no more nests and all the chicks have fledged. I've never found a nest in July so I think we can assume it's over. We monitored 56 pairs total and 44 of those were breeding pairs (pairs that actually laid eggs). Only six chicks fledged which results in 14% productivity, meaning 14% of pairs fledged a chick. That is the worse productivity we've had in nine years of monitoring. Very sad. The best year was 2011 with 78% productivity. That was followed by another bad year with only 21% productivity. It seems to go up and down like that and we had a good year last year (73%) so I kind of figured this year would be bad but I didn't think it would be this bad. But what does this mean? Next year should be much better!
Here's a graph showing productivity every year since 2011. I'm already thinking about how next year will be much more fun!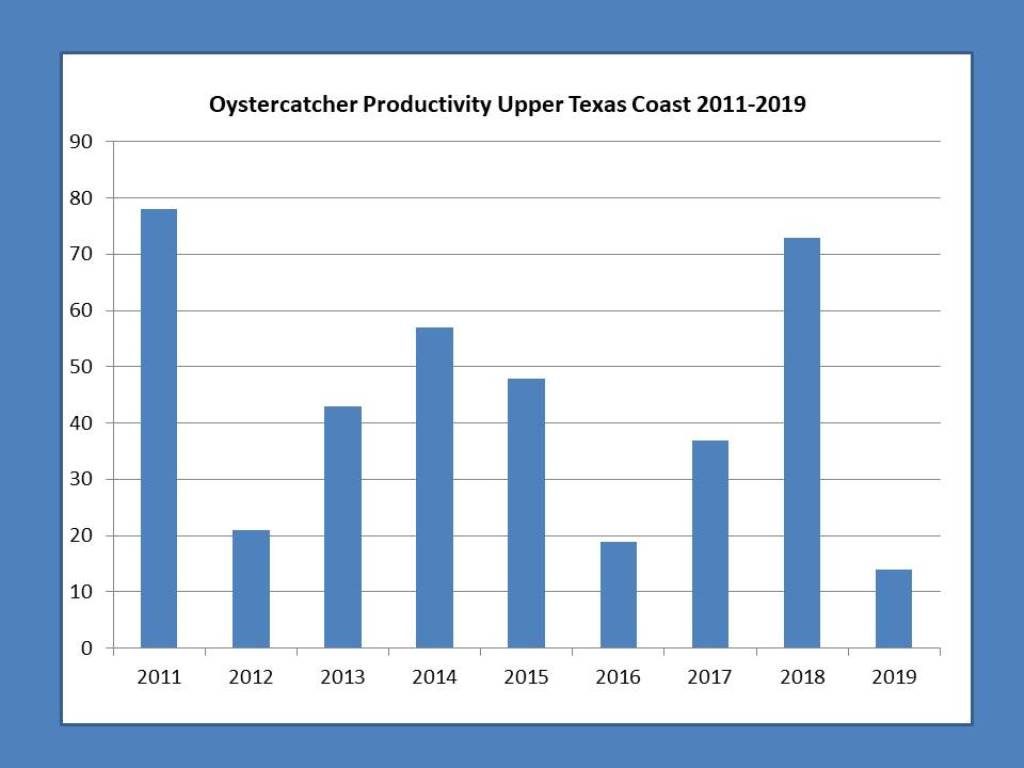 This project is supported solely by donations and small grants. If you'd just like to make a donation (thank you!) you can do so on our website here.
Current Stats for upper Texas coast from Dickinson Bay to East Matagorda Bay: 0 nest being incubated, 67 failed nests, 0 nests with unfledged chicks, 1 nest with undetermined status, 6 chicks fledged
Note: All trapping and banding for this project is in accordance with federal and state permits issued to Susan Heath, GCBO Director of Conservation Research. Bird handling by volunteers is only permitted in the presence of Susan Heath and volunteers are trained in proper bird handling techniques.