Nature Notes is a weekly article written by GCBO staff members and volunteers. Articles are written about interesting stories, fascinating species, and other environmental topics. All of our authors are avid birders, so you can expect to read a lot of bird-related Nature Notes! In these articles you can read about everything from sea foam to turkeys to the science of migration. We write about anything that we find fun and interesting, so Nature Notes are always entertaining!
These articles are published in many local papers all along the coast of Texas, bringing GCBO's passion for nature and wildlife to audiences that might not normally be exposed to it. Our mission with these writings is to educate the public about the wonders and issues going on in our environment and to get people thinking about natural world around them!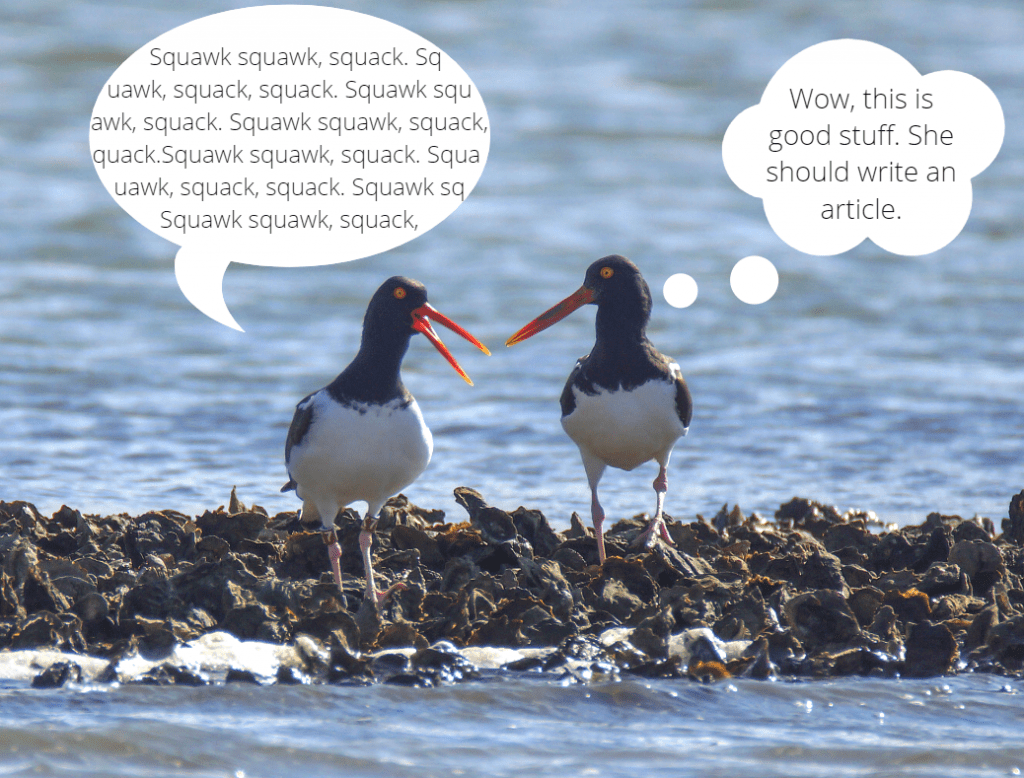 If your publication is interested in Nature Notes, please contact education and outreach manager Celeste Silling at csilling@gcbo.org or call our office at 979-480-0999.
To read our previously published articles, click on the links below.
2023
Yellow-crowned Night-herons by Susan Heath, June 13, 2023
Texas Swallows by Celeste Silling, June 10, 2023
The Whistling Tree Duck by Martin Hagne, June 3, 2023
Coastal Oak Mottes by Susan Heath, May 27, 2023
Vagrants by Adam Trujillo, May 20, 2023
May BNB by Taylor Bennett, May 13, 2023
Cicadas by Celeste Silling, May 6, 2023
Stopover Sites by Celeste Silling, Apr 29, 2023
Baby Birds by Celeste Silling, Apr 22, 2023
Vultures by Taylor Snyder, Apr 15, 2023
Singing by Adam Trujillo, Apr 8, 2023
Cattle Egrets by Taylor Snyder, Apr 1, 2023
State Birds by Celeste Silling, Mar 25, 2023
Ants by Celeste Silling, Mar 18, 2023
Merlins by Martin Hagne, Mar 11, 2023
Verdins by Rebekah Snyder, Mar 4, 2023
Gulls and Terns by Adam Trujillo, Feb 25, 2023
Yellow-rumped Warbler by Taylor Bennett, Feb 18, 2023
Barred Owls by Susan Heath, Feb 11, 2023
Sedge Wrens by Taylor Bennett, Feb 4, 2023
Endemism by Adam Trujillo, Jan 28, 2023
NestFest by Celeste Silling, Jan 21, 2023
Rock Pigeons by Taylor Snyder, Jan 14, 2023
Sharks Ate My Bird by Martin Hagne, Jan 7, 2023
2022
Robins by Martin Hagne, Dec 17, 2022
Poinsettias by Celeste Silling, Dec 10, 2022
Short-billed Dowitcher by Taylor Bennett, Dec 3, 2022
Ocelots by Celeste Silling, Nov 26, 2022
Attwater's Prairie Chickens by Celeste Silling, Nov 19, 2022
Orioles by Adam Trujillo, Nov 12, 2022
Long-billed Curlews by Taylor Bennett, Nov 5, 2022
Big Bend National Park by Alex Pearcy, Oct 29, 2022
Beachcombing on the Texas Coast by Celeste Silling, Oct 22, 2022
Bats by Celeste Silling, Oct 15, 2022
Grasshoppers by Susan Heath, Oct 8, 2022
Smith Point Hawk Watch by Celeste Silling, Oct 1, 2022
Scissor-tailed Flycatchers by Rebekah Snyder, Sep 24, 2022
Wheel Bug by Rebekah Snyder, Sep 17, 2022
Hummingbird Imposters by Susan Heath, Sep 10, 2022
RTHU Migration by Susan Heath and Celeste Silling, Sep 3, 2022
Woodpeckers by Martin Hagne, Aug 27, 2022
Sitting with Sanderling by Rebekah Snyder, Aug 20, 2022
Smith Point Hawk Watch by Susan Heath, Aug 13, 2022
Where to See Wood Storks by Celeste Silling, Aug 6, 2022
Fall Migration by Celeste Silling, July 30, 2022
Moving with the Birds by Martin Hagne, July 23, 2022
Black-necked Stilts by Taylor Bennett, July 16, 2022
Texas Bees by Celeste Silling, July 9 2022
Fourth of July Trash By Celeste Silling, July 2, 2022
Spiders of Texas By Celeste Silling, June 25, 2022
Traveling Cowboy Bird By Martin Hagne, June 18, 2022
Light Level Geolocators By Taylor Bennett, June 11, 2022
Shoebills By Adam Trujillo, June 4, 2022
Pitcher Plants By Susan Heath, May 28, 2022
Coastal Marshes By Martin Hagne, May 21, 2022
Reddish Egret By Kenlynn Volz, May 14, 2022
Grackles By Celeste Silling, May 7, 2022
Beach Nesting Birds Project by Taylor Bennett, April 30, 2022
Lammergeier by Adam Trujillo, April 23, 2022
Chimney Swifts by Sue Heath, April 16, 2022
Bird Banding by Celeste Silling, April 9, 2022
Mermaid Purses by Kenlynn Volz, April 2, 2022
Brood Parasites by Susan Heath, March 26, 2022
Horned Lark by Taylor Bennett, March 19, 2022
Birdwatching by Adam Trujillo, March 12, 2022
Porcupines by Susan Heath, March 5, 2022
Whales by Celeste Silling, February 26, 2022
Penguins by Kenlynn Volz, February 19, 2022
Balloons by Celeste Silling, February 12, 2022
Loons by Taylor Bennett, February 5, 2022
Buzzards by Susan Heath, January 29, 2022
Corvids by Adam Trujillo, January 22, 2022
Waterfowl by Celeste Silling, January 15, 2022
Tracking by Martin Hagne, January 8, 2022
Bluebirds by Susan Heath, January 1, 2022
2021
Whistling Ducks by Celeste Silling, December 25, 2021
Turnstones by Taylor Bennett, December 18, 2021
Garbage by Marissa Zamora, December 11, 2021
Turkeys by Susan Heath, December 4, 2021
Freeze by Martin Hagne, November 27, 2021
Texas Bats by Celeste Silling, November 20, 2021
Texas Turtles by Celeste Silling, November 13, 2021
Parthenogenesis by Marissa Zamora, November 6, 2021
Falcon on the Beach by Sue Heath, October 30, 2021
Black Birds by Martin Hagne, October 23, 2021
Fall Migration by Celeste Silling, October 16, 2021
Non-Breeding Shorebird Study by Taylor Bennett, October 9, 2021
Brood Parasitism by Marissa Zamora, October 2, 2021
Fishing Line a Major Hazard to Birds by Sue Heath, September 25, 2021
Hummingbird Fun Facts by Kay Lookingbill, September 18, 2021
Ruby-throated Hummingbirds by Sue Heath and Celeste Silling, September 11, 2021
Labor Day Litter by Celeste Silling, September 4, 2021
Adaptations of Fish-eating Birds by Sarah Belles, August 28, 2021
Mushrooms by Celeste Silling, August 21, 2021
Beach Nesting Birds Update by Taylor Bennett, August 14, 2021
Dragonflies by Celeste Silling, August 7, 2021
July Beach Nesting Birds Update by Taylor Bennett, July 31, 2021
Nests by Sarah Belles, July 24, 2021
Skunks by Sue Heath, July 17, 2021
An Established Exotic by Martin Hagne, July 10, 2021
Caterpillars by Celeste Silling, July 3, 2021
June Beach Nesting Birds Update by Taylor Bennett, June 26, 2021
The Science of Bird Sounds by Sarah Belles, June 19, 2021
Turtles by Sue Heath, June 12, 2021
Grackles by Martin Hagne, June 5, 2021
Summertime Snakes by Sarah Belles, May 29, 2021
Beach Nesting Birds Project by Taylor Bennett, May 22, 2021
Virtual Nature Festivals by Celeste Silling, May 15, 2021
Mississippi Kites by Sue Heath, May 8, 2021
Nighthawks by Martin Hagne, May 1, 2021
How Birds Use Tools by Celeste Silling, April 24, 2021
Shorebird Projects Update by Taylor Bennett, April 17, 2021
Roseate Spoonbills by Sarah Belles, April 10, 2021
I Found a Baby Bird, Now What? by Sue Heath, April 3, 2021
Vultures by Martin Hagne, March 27, 2021
What To Feed the Birds by Celeste Silling, March 20, 2021
Black-bellied Plovers by Taylor Bennet, March 13, 2021
Wildlife Fallout After Extreme Weather by Sarah Belles, March 6, 2021
American Robins by Sue Heath, February 27, 2021
Birds Staying Warm by Martin Hagne, February 20, 2021
Invasive Species by Celeste Silling, February 13 2021
American Avocet by Taylor Bennett, February 6 2021
Tree Swallows by Sarah Belles, January 30 2021
Goldfinches by Sue Heath, January 23 2021
Bird Strikes by Martin Hagne , January 16 2021
Winter Adaptations by Celeste Silling, January 9 2021
Snowy Plovers by Taylor Bennett, January 2 2021
2020
Pied-billed Grebes by Sarah Belles, December 26 2020
Butcherbirds by Susan Heath, December 19 2020
Winter Bird Invasions by Martin Hagne, December 12 2020
Marine Debris by Celeste Silling, December 5 2020
Ospreys by Taylor Bennett, November 28 2020
Moon Jellyfish by Sarah Belles, November 21 2020
Feeling Ducky by Susan Heath, November 14 2020
The Brazoria Palm by Celeste Silling, November 7 2020
A Piping Plover Story by Celeste Silling, October 31 2020
Hummingbird Facts 4 by Kay Lookingbill, October 24 2020
Hummingbird Facts 3 by Kay Lookingbill, October 17 2020
Hummingbird Facts 2 by Kay Lookingbill, October 10 2020
Hummingbird Facts 1 by Kay Lookingbill, October 3 2020
Why Grow Native Plants? by Celeste Silling, September 26 2020
Marbled Godwit by Taylor Bennett, September 19 2020
Bowerbirds by Sarah Belles, September 12 2020
Hummingbird Migration by Susan Heath, September 5 2020
Birds and Gulf Storms by Martin Hagne, August 29 2020
Virtual Birding Festivals by Celeste Silling August 22 2020
Gull-billed Terns by Taylor Bennett, August 15 2020
Dragonflies by Morgan Barnes, August 8 2020
Mexican Eagles by Susan Heath, August 1 2020
Northern Cardinals by Celeste Silling, July 18 2020
Ghost Crabs by Taylor Bennett, July 11 2020
Wildlife Myths by Morgan Barnes, July 4 2020
Cowbirds by Susan Heath, June 27 2020
Kites with no Strings Attached by Martin Hagne, June 20 2020
Balloons by Celeste Silling, June 13 2020
Wilson's Plovers by Taylor Bennett, June 6 2020
Opossums by Morgan Barnes, May 30 2020
Nighthawks by Susan Heath, May 23 2020
Birding the Pandemic by Martin Hagne, May 16 2020
What Makes Hummingbirds Special by Celeste Silling, May 9 2020
Least Terns by Taylor Bennett, May 2 2020
Aposematism by Morgan Barnes, April 25 2020
We Need to be Oystercatchers by Susan Heath, April 18 2020
Too Much of a Good Thing by Martin Hagne, April 11 2020
Cats and Birds Dont't Mix by GCBO Staff, April 4 2020
Semipalmated Plovers by Taylor Bennett, March 28 2020
Murders, Ambushes and Prides, Oh My! by Morgan Barnes, March 21 2020
An Amazing Pelican Journey by Kay Lookingbill, March 14 2020
Thunderbirds Over Texas by Martin Hagne, March 7 2020
The Science of Brewing Beer by Celeste Silling, February 29 2020
Mysteries of the Moon Snails by Taylor Bennett, February 22 2020
The Curious Case of the Puffin Face by Morgan Barnes, February 15 2020
Why No Birds? by Martin Hagne, February 8 2020
Birds in Love by Celeste Silling, February 1 2020
Purple Martins by Sue Heath, January 25 2020
Longnose Spider Crabs by Taylor Bennett, January 18 2020
Why Count Birds? by Martin Hagne, January 11 2020
White Nose Syndrome by Celeste Silling, January 4 2020
2019
Support the Birds This Christmas by Sue Heath, Dec 28 2019
Sanderlings by Taylor Bennett, Dec 21 2019
The Biology of Migration by Celeste Silling, Dec 14 2019
How Birds Flock by Celeste Silling, Dec 7 2019
Turkey For Thanksgiving by Sue Heath, Nov 30 2019
The Mighty Red Knot by Taylor Bennett, Nov 23 2019
Vultures: Nature's Cleanup Crew by Martin Hagne, Nov 16 2019
How Owls Hunt by Celeste Silling, Nov 9, 2019
Sinkholes by Heather Hill, Nov 2, 2019
Blackbird or Black Bird? by Sue Heath, Oct 26 2019
Native Plants by Chris Kneupper Oct 19 2019
Wrack by Taylor Bennett, Oct 12 2019
Smith Point Hawk Watch by Sue Heath, Sept 28 2019
Nature's Echo by Martin Hagne, Sept 21 2019
Black Skimmers by Taylor Bennett, Sept 7 2019