By Susan Heath
It's always an adventure on the bay! On Wednesday, Alan and I had planned to go out and check on everybody, but on Tuesday the forecast looked not so good. By Wednesday morning the chance of rain in Galveston was down to 15% most of the day even though the radar looked like this.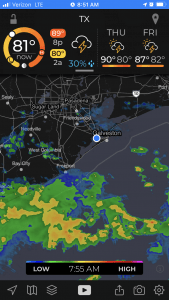 We decided to make a go of it. The skies were not inviting but we didn't have that much that had to be done so we headed to Jones Bay. On the first island we found a Crested Caracara.
We are seeing them out in the bays more and more and that is not a good thing. They are big egg and chick predators! Move along you!
There was an unbanded bird on one of the small islands but no sign of CA & Y2 and their chicks. We didn't check the breakwater around the Tiki Spoil though and they could have been there. The Caspian Tern chick still can't fly and started swimming again when we approached so we left quickly and I watched from afar to make sure it went back. It should be able to fly any day now I'd think.
FR & unbanded were spread out with one on a reef and one on the island but in typical fashion they flew when we went over for photos. FR circled around several times and then they both landed at the east end of their territory. We got photos of them there. They sure waste a lot of energy flying around!
I was almost afraid to check on W5 & JC because I didn't want to know if their chick didn't make it but happily it did! Alan spotted it sleeping next to a pink baseball hat that had washed up on the shore and was able to get a photo before it stood up.
It went up and stood by W5 who was standing guard.
W5 started calling and JC flew in from somewhere to help. I guess she had been on a reef feeding. The chick is two weeks old now and the threat from Laughing Gulls is much diminished. Maybe it will make it after all!
We found P4 alone along a beachy area of Marker 52 and JJ was hanging out on a reef where we also found X0W who is one of 12 & unbanded's chicks from this year. When we went over to check on J6 & UF, J6 flew around calling and X0W came and joined him. I don't know why the males are so spooky this time of year. Weird!
We moved on to look for YM & JH and their chick but we only found YM. JH must have taken the chick off for a tour of the bay. Then it was time to check on C1A & unbanded and see if their chick Y8Y was fledged. We motored over there and found the unbanded bird on a reef at the entrance to the area. C1A was on the island and Y8Y was a little further down. When it saw us, it made a short flight (yay!) to get to C1A and then it started running back where it had come from. Alan managed to snap a few photos of it in flight.
I guess it isn't too sure of its flight skills yet and was heading for the vegetation. We got out of there fast so it wouldn't jump in the water. Another chick fledged!
We headed over to Struve to check on the skimmers so everything that we absolutely needed to do would be done in case it started raining. There skimmers were doing fine and there were lots of fledged chick hanging around.
Alan took a bunch of photos so he could go through them later and identify all the bands for me. Such a huge help! It didn't seem like any of the new nests had hatched and I only saw three chicks that weren't fledged. I guess those nests will hatch soon though and then we'll have another crop of youngsters.
Most of the oystercatchers were there but the only chick was the one with fishing line entangled on its foot. Its not looking good and it wouldn't stand on the foot. We checked to see if it could still fly and it could but I think next week we'll bring the net gun and give it another go at catching it. We really need to get that line off that foot! It must be very painful. Poor chick!
There wasn't any rain close to us on the radar so we continued on our route. Nothing much happening until we got to 8 Mile Road. There were 12 birds there and seven of them were banded. We had already seen 16 on another rock outcropping so all of these banded birds were others. One of them was C8A the bird from Matagorda Peninsula that we rescued from a fishing line entanglement when it was a chick.
I'm really glad to see it is hanging around. From the eye flecks it looks like it is a female. We'll see if she ends up paired with somebody next year! We checked South Deer and found only two unbanded birds. The skies were starting to look ominous but there was only one more place to survey. We found A5A on Confederate Reef and A1A and A4A & unbanded on the Gangs Bayou breakwater.
I had intended to head across the bay towards Greens Cut so we could see if they had made any progress on the breakwater but we could see it was raining in that area so we toyed with the idea of going to Swan Lake. On the way to the railroad bridge the wind kicked up from the thunderstorms and we made the wise decision to head for the boat ramp. Good thing we did because the radar looked like this when we got there.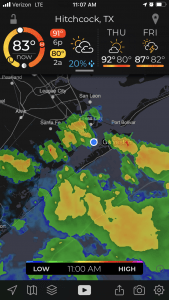 We got the boat out of the water and had just pulled it under the cover of the overpass when it started raining. While we were packing everything up, the thunder and lightning rolled in. We finished just in time!
If you like oystercatchers and you want to support this project, you can make a donation (thank you!) on our website here. And how could anyone not like oystercatchers!
Current Stats for upper Texas coast from Dickinson Bay to East Matagorda Bay: 0 nests being incubated, 41 failed nests, 1 nest with unfledged chicks, 0 nests with undetermined status, 16 chicks fledged
Note: All trapping and banding for this project is in accordance with federal and state permits issued to Susan Heath, GCBO Director of Conservation Research. Bird handling by volunteers is only permitted in the presence of Susan Heath and volunteers are trained in proper bird handling techniques.