Private Fall Hummingbird Banding Experience
Current bid: $205.00
Item condition: New
Time left:
Auction ends: December 11, 2022 7:00 pm
Timezone: America/Chicago
Current bid: $205.00
Description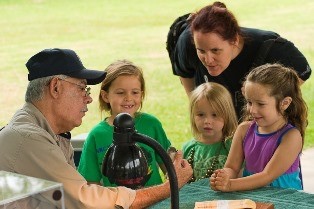 Come join GCBO's star banding duo, Kay and Robert Lookingbill for a morning of hummingbird and songbird banding at the GCBO headquarters in Lake Jackson, TX.  We will set up our standard hummer banding station just for you to enjoy those brilliant little hummers up close, and a chance to release one from your own hand!  GCBO staff and volunteers will assist and make it a fun morning.  And to make it even more personal, you will get four adoption certificates to hummers banded that morning!   Sorry, you can't take the hummers home… but if they are ever caught again by banders you will get an email saying where "your" hummer is! This private event is good for four people.  Some Covid restrictions may apply if still an issue.
Set up the date with Sue Heath at sheath@gcbo.org
Must be used in September of 2023 (the height of hummingbird migration season)
Donated by Robert and Kay Lookingbill, and GCBO