Rockport Fulton Experience 2022
Winning Bid: $200.00
Description
This package includes a trip for 2 aboard the Skimmer boat, as well as a 2 hour golf cart rental, and two drinks. Capt. Tommy has been in the Aransas area for over 30 years, and his knowledge of the area, the incredibly abundant wildlife, and the rich history of Aransas bay give you a perspective of the area you cannot get anywhere else.
Available boat trips are:
Whooping Cranes and Coastal Birding Nov- Apr.
Dolphin or Sunset Trip  Jun. – Sept.
As an added bonus to Whoopers, Dolphins, or Sunset you will be able to see up to 60 bird species, the coastal habitat, the bay, wonderful narrative along the way by the Skimmer staff all while on the water. With the golf cart, you'll be able to see the wonderful town!
You need to book your trip, pending availability with the Rockport Birding and Kayak Adventures.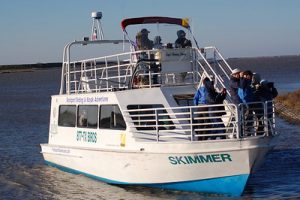 http://www.whoopingcranetour.com/
Donated by the Rockport Birding and Kayak Adventures and Duck Blind Rents, by Captain Tommy Moore.
MUST BE REDEEMED before March 31 2023